How To Use Your Favorite Songs To Learn Guitar Chords And Improve Your Guitar Playing Now
Stop struggling to learn to play full songs—learn how to easily conquer all the guitar chords in a song—fast.
Do you: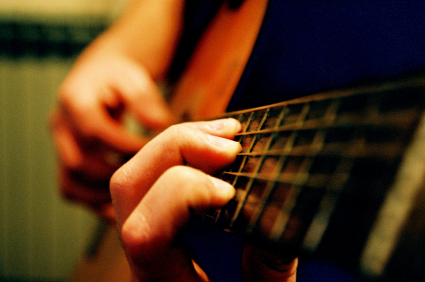 Struggle when you try to memorize all the chords in a song?
Start trying to learn a song and then quit because it seems too overwhelming?
Play the same parts of songs over and over without ever finishing the song?
Know most parts of some songs but have problems with just one or two parts that give you trouble?
Almost all guitar players have a difficult time learning complete songs all the way through. In fact, many guitar players (even experienced ones) only know how to play "parts" of many songs but can't play very many from beginning to end.
The solution is to break down the seemingly overwhelming number of chords and chord changes in guitar songs into small, manageable parts that are easy to learn, memorize and practice.
This free video lesson will show exactly how to:
Quickly memorize all the chords in any song so you can easily play them.
Know exactly which chords you need to practice the most so that you can conquer the chords that give you trouble.
Practice the chord changes in the song so that you can master all the changes in the shortest time possible.
Easily break down the main component parts of the song so you can learn complete songs and play them for your own enjoyment or with others.
Eliminate the frustration of only knowing how to play "parts" of songs.
Fill out the form below to get instant access to a guitar chord lesson video that will help you immediately learn how to get the chords of a song "under your fingers" and sounding great. The lesson also includes a free bonus Song Chord Worksheet that you can use to learn and master the chords to any song you want to play.
Get it now:
Your e-mail address will NOT be given away or sold - I take your privacy seriously.
Learn to play now with guitar lessons for beginners online