Attention Beginning Guitar Players: Think You Are Not Good Enough Yet To Play In A Band? Wrong! You ARE!




Learn How To Play In A Band - Even If You Have Little Or No Experience Playing The Guitar
Learn To Play Songs Now, And Play In A Band Now!
You want to play guitar in a real band, right? You probably think you are not good enough for that, right? You probably are afraid to even try right now, right?
You want to play guitar in a real band, right? Everybody wants this. The problem is, most beginning guitar players (probably you included) are too insecure, too afraid, too nervous, too shy or too embarrassed to even think about playing in a band at this point… at least until you become a lot better on the guitar… So what do beginning guitar players do? Nothing. They sit at home, playing alone, trying to learn little bits and pieces of songs, but never the full and complete song played the right way . Sound familiar?
Then, years later, these players get enough courage to try to play with other musicians and form a band. Since they never actually learned what or how to play with a band, they become "shocked" when they try to start playing with others or even when trying to start playing full songs—it's totally discouraging, makes them feel like their guitar practice has been a waste and they are not any good. They feel they are somehow "lacking", and what other guitar players do looks easy and they just can't do it. Most beginning guitar players feel this way—I felt this way too when I first started trying to jam with other musicians.
Throughout 2 decades of teaching hundreds and hundreds of beginning guitar students, I experimented, created and perfected the only solution that works to get beginning guitar players to play in a band – and not only playing little pieces of songs, I'm talking about playing WHOLE SONGS, from beginning to end!
Playing real music SHOULD NOT wait for "someday", it can and must start right now if you want to become a great guitar player. It's not hard at all.
What you need are complete, full and COOL songs to play with an entire band that don't suck nor are cheesy nursery rhymes for children. Plus you need someone to show you exactly HOW to play them, step by step, all the way through.
There is only one place in the world you can find this, and you've just stumbled upon it: The "How To Play In A Band" course for guitar players with little or even no experience playing guitar.
This one-of-a-kind course is easy to learn because every little piece of it is broken down for you in video, audio, text, tablature (aka: tabs), and or diagrams. So whether you are a visual learner, auditory learner or simply learn by doing, you will find it very simple to learn everything and apply what you learned to your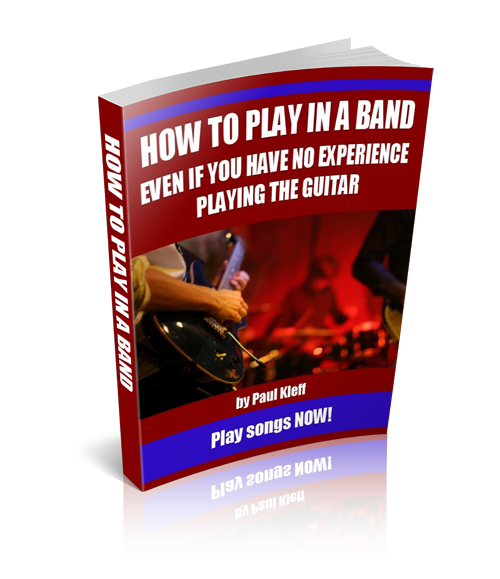 guitar quickly so that you (yes YOU) can easily be ready to start or join your first band! In other words, I'll take you by the hand and get you to be "band ready" FAST.
Imagine yourself in a band playing really cool songs from start to finish and having the time of your life! I've played in bands for many years and I can tell you that there are very, very few things in life that are more thrilling than the feeling you will have when you are jamming with your band and people gather around to listen – even if it's in your backyard or in your basement when you look over to see your friends or some cute girl smiling at you because of how YOU make them/her feel through your music.
Because so many beginning guitar students (like you) want to eventually become good enough to play guitar in a band, I have dedicated much of my teaching focus to help you do this now, not 'eventually', 'someday' nor 'one of these days 5 years from now'. You want to begin this process right now, and I'm going to give you the tools, skills and know-how to get you there. This is one of my specialties.
You will learn, do and get:
Gain the ability and the confidence to play in a band and in front of other people.

You will eliminate your fear of learning to play with other musicians. Playing the songs you will learn with the included backing tracks will simulate what playing in a band really feels like. It's like having a band show up at your house ready to jam with you anytime. So when you do start or join your first band, you will already have all the practice, ability and confidence and it will feel natural for you to jam with others and play well.

You will get 10 COOL complete songs, not just bits and pieces of songs and not boring songs for babies or people over the age of 85. That means when you play these songs, people will actually love listening to them and you will love playing them. (The styles of the songs are: Rock, Blues, Rock Ballad, "Old Time" Rock, Classic Rock Style Blues, Country Ballad & Country)

Easy-to-understand and clear step-by-step guitar lessons that hold your hand all along the way as if I was in the room with you. The format of your guitar lessons will be the following:

Video demonstrations of all your guitar parts so that you see, hear and know exactly what and how to play every note and chord perfectly.

Tablature & chord diagrams (including simple explanations on how to easily read them) so that you can quickly see and visualize each note and chord of every song.

4 versions of audio backing tracks (recordings) of each song:

Backing track 1: Complete 'full band' (2 guitars, drums, bass) so you can hear the whole song and play along.

Backing track 2: Easy guitar part (guitar 1) left out so that you can play guitar 1 along with the complete band.

Backing track 3: More advanced guitar part (guitar 2) left out so that you can play guitar 2 along with the complete band when you are ready for that.

Backing track 4: Both guitar parts left out so that you and a guitar playing friend can practice the songs with the bass, drums and keyboards together.
Even without a band you can still play 10 cool songs on guitar along with the band recordings for your friends and family. So when someone asks you to play something on guitar, you can actually play 10 cool and complete songs all the way through. Think about how awesome you will feel when someone says "play me something" and you can put these backing tracks on and play many songs for them—even if you have only been playing the guitar for a short amount of time. You will blow them away and feel like a rock star!
With this course you will learn a variety of specific skills that are necessary for you to be successful playing in a band that you will never learn anywhere else. When I was a beginning guitar player, I wish that I had something to practice with like Paul has put together in his guide "How To Play In A Band Even If You Have Little Or No Experience Playing The Guitar."
Mike Philippov, Professional Musician and Guitar Instructor

This is something completely different from every other book on this topic that I have ever seen. This program will help you get rid of the fear of playing with other musicians. This program is great because it gives you actual, real songs. I totally recommend this if you are a beginner.
Tommaso Zillio, Professional Guitarist and Guitar Instructor

Paul will teach you using creative songs that you are actually going to enjoy playing. You will learn to play complete songs, too. That way, when someone asks you to play a song you'll be able to play a whole song, not just bits and pieces. If you are a beginning guitarist, I totally recommend that you check this out.
Ryan Buckner, Professional Guitarist and Music Instructor

How much money do you think it would cost you to hire a top level private guitar teacher in your area to create cool songs for you, record them all for you (2 guitars, bass guitar, drums, keyboards), create multiple backing tracks per song, write out all the tablature, chord diagrams and text, teach, demonstrate, illustrate and train you to play each song start to finish so that you are 'band ready'? Well let's break it down by time. To do everything I just described (which is everything you are going to receive when you get this course) would probably take an expert guitar teacher about 80 -100 hours. Let's assume he can get it done in only 80 hours for you. Now imagine what it would cost you to hire such a teacher for 80 hours (a top-level teacher would charge AT LEAST $50 USD an hour). You would have to pay $50 x 80 hours = $4000.00 USD. Plus you'd have to wait weeks or months for him to do all this work for you.
You are going to get everything right now – instantly. You won't pay $4,000. You won't pay $2,000. You won't pay $1,000. You won't pay $500. You won't pay $200. You won't even pay $100… You're going to get everything - all the videos lessons, 40 audio backing tracks, all the tab, all the chord diagrams, all the explanations, all the help, all the guidance right now for only $47. That's it, $47!!! Wait a minute, if all of this is worth thousands of dollars (and it is), then why am I selling it to you for only $47? That's a great question. Here's the answer. As you have probably figured out by now, I have other guitar instruction products, services, courses, programs and lessons in mind for the future that I'd love to offer you. But right now my only goal is to give you massive amounts of value, huge results and the opportunity to earn your trust. Once you buy this course and you learn these songs quickly and then are able to play in a real band, you will become very hungry for more things to learn and I want to be the person who has the privilege of teaching it to you in the future. That's the truth and my entire motivation for offering this amazing one-of-a-kind course for only $47. That's more than fair… way more.
And just to make this deal even better, you'll also get these free bonus items:

2 Bonus songs

2 Bonus video guitar lessons

8 Backing tracks

Plus of course all the tab, instructions and chord diagrams
Now the $47 price is even better and you'll learn and do even more with your guitar… and with your band!
There is a catch…. Isn't there always a catch? Yes there is and here it is. The $47 will only last for a short time. The price will go up in the near future for sure. So you better get this right now.
Scroll down and find the simple order box. Click on the big orange button that says "Add To Cart". You will then be taken to the order confirmation page. Fill out the simple, fast and easy order form and you will get instant access to everything that will enable you to play all 12 complete cool songs so that you are able to start or join your own band, have total confidence playing in front of other people and feel like a rock star when everyone is impressed (and the cute ladies smile at you as they listen!)
Do it now:
Yes! I want this!
How To Play In A Band - Even If You Have
Little Or No Experience Playing The Guitar
Plus I also want my bonus songs, video lessons, backing
tracks and everything else that comes with it.
$47


PS: Hey, this is the only course in the world for beginning guitar players like yourself to learn how to quickly learn 'cool' and complete songs AND play them with a band! Don't let insecurity, fear, lack of confidence, lack of knowledge, lack of skills, lack of know-how or procrastination stop you from feeling great when you play these songs in your new band! You can show off your new special talents to your family and friends (or that cute lady you want to impress!)

Paul Kleff